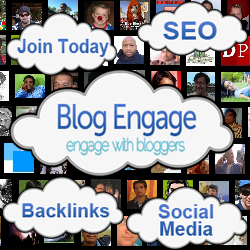 What's the main aim of a blogger ?? Obviously, making some quick bucks from his blog. But for that quick bucks to actually generate, a blog should be getting a decent traffic. So as per my view, getting traffic should be the only goal of a blogger.
So how to get traffic to your blog ?? There are many ways for it, but I am going to share a unique way to get traffic which most of the bloggers might be knowing already. I'm talking about BlogEngage community. Its a beautiful place where you can know many bloggers, plus you can generate great traffic to your blog.
What is Blog Engage ??
Blog Engage is a simple site where you can submit your blog, submit your recently published blog posts and see the traffic flowing to your blog.
Wait it's not that simple. You too have to do some work. You have to use your social skills. Your article will be shared and voted only if you are kind enough to share and vote other users' (bloggers') articles. The other members of the community will surely like your gesture and you will get votes and shares in return.
Its just like Facebook for bloggers. You like (vote) the articles, share them on different networks and get the same thing in return and you can even get your blog post on the homepage of the amazing site.
Advantages of being on Blog Engage :
You can manually submit your articles and you can use all the features and functions of the site.
Adsense Revenue Sharing program.
You can create or join existing groups and increase your exposure.
Blog Forum and Blog Directory.
You can keep a watch on your friends' activities on your wall.
EasyRetweet bonus.
Free SEO marketing e-book.

Earn money with Blog Engage :
You heard it right. You can even make some money with this amazing site. You can join the Affiliate Lights affiliate program and you can add recurring commissions for every referral. Plus, as a member of the community, you are eligible to take part in the "Guest Posting Contest" and make some more money. Great, isn't it
There's much more ……….
The things I have mentioned above are that of a Standard account, but that's not all. You can even sign-up for a premium account to enjoy more added features. You can see the different membership options here.
So now you know of yet another robust service that can give you long-time results as a blogger. So please be sure to join Blog Engage and enjoy the benefits